It is incredibly difficult to write an entire novel. You spend six months or more creating characters, thinking of scenarios, and then writing everything down. You've followed the admonish to not go back and edit yourself as your writing, you just get it all on the page and actually write to the end of the story. It's an incredible accomplishment, right? And you just want to send the manuscript to an agent or a publisher or even self-publish so that you can see that title and your name on the cover of a book. You never imagined you'd actually succeed at this crazy adventure so you're not concerned with being the next John Grisham, you just want to say "I'm a writer" and when people ask you what you've written you can show them this book that is in your hands. It's a truly beautiful thing. You need to fight this urge with all your power.
I speak from experience when I tell you right now with all candor: "You cannot over edit." You can edit badly, but not too much. You can always find little tweaks to make it better, more coherent, and with fewer typos. And trust me I speak from experience. Allow me to take you down the trail of the one novel I've actually finished and (self)published.
The Spark
The idea for my one story began from Script Frenzy, which was an offshoot of NaNoWriMo, which I'd first heard about in 2008. I tried my first NaNoWriMo in November of 2009 and then decided to try Script Frenzy in April of 2010. Script Frenzy was a contest where you were to write a 100-page script in one month, similar to NaNoWriMo's 50,000-word goal. I had an idea to write a pilot episode of a TV show and the second episode for a total of 100 pages.

That's where the character of Davison Parris came from. I really saw this smart-alecky high school science teacher who enjoyed his job but could be a bit of a malcontent as well. One of the rules of Script Frenzy was that one could adapt a previously written novel into a screenplay and for NaNoWriMo, vice versa. So I took these characters and tried to create a deep enough plot to carry a full-length novel, which would be by NaNoWriMo project that November. My dad was having some health issues at the time, so I decided to have the MC deal with the death of his father, which spurred him to chase the dreams of his youth: playing professional baseball.
Creating the Outline
After NaNoWriMo the previous year, I was tipped off to a novel-writing program called yWriter, created by programmer and sci-fi author Simon Haynes. I used the program to take this script I had and organized it into a novel. To be honest, I honestly didn't have the ending completely in mind, I just knew that I wanted Davison not to succeed in his dreams of playing pro ball.
Now, NaNoWriMo is not about finishing a complete novel, it's about writing every day and pushing through without looking back. I love NaNoWriMo, but, like all my other writing ideas, I use what works for me and ignore what doesn't. I don't go to write-ins and I'm not too heavy on the forums. I use it for one thing: a deadline. Is it a completely arbitrary deadline with no real consequences? Of course, but it works for me and so I use it.
Writing Every Day
When I started writing on November 1st, I had no idea where I was going. But I knew I had more than enough of my outline to write every day for a month so I just started writing. When I hit the scene where Davison's father dies, I just skipped it. I knew I wasn't emotionally prepared for that scene, but I didn't need it continue the story. It was actually the last scene I wrote after everything else was done. As I was writing, I knew Davison was going to get hurt and go back to being a teacher, but I didn't have the real ending.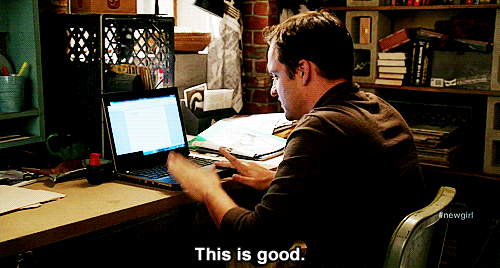 One day, when I was driving home from work, I had the Eureka! moment where it all made sense to me. I knew exactly how to wrap it up. I was a few minutes from home and I had a mini panic attack. I wasn't sure if I should stop and write down the idea, or just get home as fast as possible. I was in a residential area so I couldn't pull off anywhere, so I just "rolled" through a few stop signs and when I got home, I wrote the whole scene which is almost completely unchanged in the final draft. At this point I knew the characters so well, that I wasn't telling them what to say, I was just listening as they were talking.
The Brutality of Editing
NaNoWriMo ended on November 30, 2010, but Grasping for Dreams wasn't finished until April of 2011. That's when I wrote the scene between Davison and Coach Sabo and knew it was done. Here, I broke a cardinal rule of editing: let the piece sit. I immediately started editing it. I ran it through an editing website called EditMinon which I'd learned about from Write or Die (Write or Die is the true hero of this novel, I never would've gotten to 50,00 words without Dr. Wicked's help). Then I printed the whole thing out and gave it to my wife to read.
My wife reads all the time, but this wasn't exactly her style, so I knew I was asking a lot, but she did a yeoman's job marking up the rough draft. She copy-edited and content-edited it for me at the same time. I then had a few more people read it before I formatted the manuscript and sent it to CreateSpace for my free proof as a result of "winning" NaNoWriMo. I then read the proof, found multiple mistakes and fixed them. I changed the cover and made a few changes and sent it off again. I even had a Kindle version.
Months later, while sitting in a doctor's office I pulled out my phone and started reading it. I found error after error and plenty of bad writing. I read the whole book and marked fifty to a hundred changes.
Trust me when I say, there's no such thing as too much editing. But there's plenty of bad editing.
Where to Begin
Always do content editing before you do anything else. There's no point in checking for spelling errors if you're going to had to do a lot (or really, any) rewrites. Because these rewrites will need to be copy edited as well. Fight the urge to correct all those misspelled words and focus on the story. And for the love of all that you believe in, have someone else read the manuscript. Ideally, this should be a person that knows very little about the story, so if you've been talking about this in your writer's group or with your friends and family, they're probably not the best person to read this over.
Believe me when I say that this will be the hardest part. Finding someone willing to read a WIP and give honest criticisms is extremely valuable. There is no silver bullet here (unless you're willing to pay for a copy editor), but if you offer to read someone's work in exchange, you may be able to cultivate a relationship here. The only advice I would give would be to give more than you receive. Be willing to read a lot and don't complain if it takes someone a while to get back. You're building a long-term relationship here so be willing to do more of the heavy lifting if you can.
Another option is to join an online writing group like Scribophile. Like most of these types of sites, there is a premium and a free level. On the free level, you get points for reading and critiquing posts. Accumulate points to post your own writing which stays up until you've received a certain number of responses. The premium service allows you to post more items and accumulate points more quickly. While I cannot say the premium site is worth the cost I can say that the site itself is valuable. I posted the first chapter of my novel and everyone said the first scene had to go. This was a chapter several different people had read and no one told me this. I don't know if it was because these people were more quick to be brutal or if they were looking at it from a more seasoned point of view but as soon as I read that I knew they were right.
How is it possible that through all the beta readers and multiple revisions do no one noticed what was obvious to all the readers on Scribophile? Because it's what they do. They're not emotionally invested in the writer or the work and they're able to be objective. Plus, they're on the site because that's what they want to do. They choose to edit and critique others work. My wife and other beta readers certainly didn't want to hurt my feelings plus they were doing me a favor.
What's Next…
The truth of the matter is that no website can replace what real human beings can do. I've used many different grammar checkers (my current favorite is Grammarly and I also like Hemingway) but it simply can't compare to have a real professional copy editor go over your work. It's what they're paid to do and they're very good at their jobs. If you really want to give your manuscript the professional polish it needs before sending it to an agent, it's the direction you have to go. And as I've said before, even the greatest document in the history of the English language needed a little revision.